Ukrainian Currency Collapse in a Basket of Goods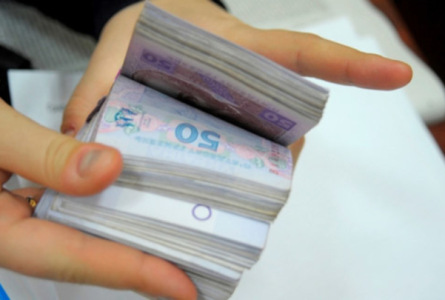 The Ukraine is in a state of turmoil. It experienced the annexation of Crimea last year at the hands of Russia the revolution. It is locked into an ongoing conflict with Russian separatists in the east. The economy contracted 8% last year, with a further 5.5% expected in 2015. Inflation is currently running at 25%. Even the central bank says this will not stabilise in 2015.
Foreign currency reserves have been all but depleted in trying to keep the gas flowing, and to also prop up the collapsing currency. These efforts were recently halted.
On February 21st 2014, the Ukrainian hryvnia stood at 12.23 to the euro. On 20th February 2015, it closed at 31.60, hitting yet another record low.
It represents a fall in the hryvnia to the euro of 61.3% in only 12 months. This also takes into account a bad year for the euro, which is going through its own crisis. It has led to the euro falling significantly to the dollar.
Foreign Currency
Anyone paying a visit to the country will know that euros, dollars and for that, any foreign currency are much in demand. Currency booths offer significantly better rates than official levels, such is the demand for foreign currency.
New Europe Investor recently paid a visit to Kiev. In the queue at the at the airport's currency booth, a man offered his own exchange services, where he offer significantly better rates.
New Europe Investor looks at 15 everyday products and services in the Ukrainian capital, Kiev.
We have retrieved an average cost of these products and services in the local currency, the hryvnia from Expatistan.com. We then look at their equivalent value in euros, compared to what the price would have been exactly one year ago.
The table merely highlights the fall in the value of the hryvnia, by showing common items in euros, and does not look at the product prices in hryvnia last year.
Product/Service

Price in hryvnia

₴

Feb 2015

Equiv euros

€

20th Feb 2015

Equiv euros

€

21th Feb 2014

12 Eggs

23

73 cents

€1.88

1kg of Apples

12

38 cents

98 cents

1 Litre of Milk

11

35 cents

90 cents

Boneless Chicken

Brest

25

79 cents

€2.04

2 kg of Potatoes

5

16 cents

41 cents

Domestic Beer in

Sepermarket

8

25 cents

65.41

Metro Ticket

4

13 cents

33 cents

Monthly Public

Transport Ticket

154

€4.87

€12.59

8km Taxi Journey

69

€2.18

€5.64

2 Theatre Tickets

(Best Seats)

800

€25.31

€65.41

Cocktail in Downtown

Club

58

€1.86

€4.74

Domestic Beer in

Neighbourhood Pub

22

70 cents

€1.80

Cappuccino in Expat

Area

25

79 cents

€2.04

Big Mac Meal at

McDonalds

39

€1.23

€3.18

Lunchtime Menu in

Business District

58

€1.84

€4.74