Estonia Election Guide 2015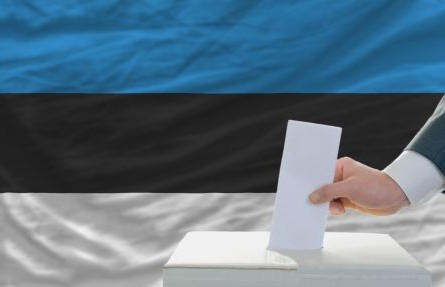 With Estonia's parliamentary elections taking place on Sunday, New Europe Investor offers a quick guide to politics in the small Baltic State with a population of only 1.3 million people.
Held every four years, the general election will be the 7th since Estonia ended its time as a Soviet Socialist Republic in 1991.
Its parliament (Riigikogu) has 101 seats. The country's PR system means parties almost always have to work together and form a coalition.
Estonia is divided into 12 electoral districts. Each candidate must achieve at least 5% of the votes in order to get elected.
2011 Estonia Election, What Happened?
In the 2011 election, the Estonian Reform Party (RE) won the majority of seats, 33, achieving 28.3% of the first preference votes. They went into coalition with The Pro Patria and Res Publica Union (IRL), who came third in the vote with 20.5% and 23 seats.
Prime Minister, Andrus Ansip, leader of the Reform Party was appointed the Prime Minister of Estonia.
However, a party funding scandal led to his resignation in March 2014 and Taavi Roivas took the wheel.
At the same time, The Reform Party switched coalition, joining forces with The Social Democratic Party (SDP). They came fourth in the 2011 election with 19 seats and 17.1% of the votes.
2015 Estonia Election, A Summary of Four Major Parties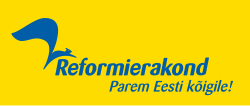 Reform Party (RE)
Eesti Reformierakond
Leader: Taavi Roivas
Current Number of Seats: 33
Ideology: Classical Liberalism
Key Points: Current party in power. Support 0% corporate tax. Introduced flat rate income tax of 22% under previous Prime Minister Ansip. Party want to lower this flat rate income tax to 18%. Party has participated in the government in all but three years since its foundation in 1994. Wants to end conscription, Andrus Ansip was the EUs longest serving Prime Minister spending 9 years in power before his resignation last year. Current Leader Taavi Roivas is only 34 years old.
Estonian Centre Party (KESK)
Eesti Keskerakond
Ideology: Centrism/Social Liberalism
Current Number of Seats: 26
Key Points: Supported by 75% of country's ethnic Russian. Leading supporter for intervention in Ukraine. Considered by many to be more left wing than they claim to be. Often accused of being a populist party.
Union of Pro Patria and Res Publica (IRL)
Isamaa ja Res Publica Liit
Ideology: Conservatism/Liberal Conservatism, Christian Democrats
Current Number of Seats: 23
Key Points: Party values free enterprise. Culture and traditions are important. Party is strong on national security. Was coalition partner with Reform Party from 2011 to 2014 before Andrus Ansip resignation.
Social Democratic Party (SDE)
Sotsiaaldemokraatlik Erakond
Ideology: Social Democracy/Left of Centre
Current Number of Seats: 19
Key Points: Current Coalition partner with The Reform Party. The Russian Party of Estonia merged with them in 2012 (Russian party received 0.9% of the votes in 2011 election). Believe in welfare state and social justice. Believe in 'social market democracy'.
Other Parties
The Green Party (EER), The Conservative People's Party of Estonia (EKRE), and 2014 founded Free Party (EVA) are the three others with a chance of winning a seat. All parliamentary seats currently held by the 'BIG 4'.
A total of 874 candidates (including 13 independents) are contesting the country's 101 seats in the 2015 General Election.
When is the Vote?
The official vote is on Sunday, 1st March 2015.
However, Estonians have been allowed to cast their vote online all week. By Wednesday 25th February, 4 days before the official voting day, 176,491 took part in the online ballot. This represented nearly one third of the electorate.
In proportional terms, it is a record for a general election anywhere in the world.
Estonia has been using an online voting system since 2005.
Can Estonians Abroad Vote?
Yes, Estonians living abroad are allowed to vote. The National Electorate Committee claim there are 77,000 potential voters living overseas. The largest expatriate community is in Finland.
However, the number actually casting their vote is minute. In the 2011 election, only 2,763 Estonians voted abroad via a mailing, online or through The Estonian embassies.
So Who Will Win?
February Polls carried out by Turu-uuringute AS and TNS Emor show strikingly different results. See Below.
Reform Party:
Turu-uuringute AS: 22% TNS Emor: 23%
Estonian Centre Party:
Turu-uuringute AS: 27% TNS Emor: 22%
Union of Pro Patria and Res Publica:
Turu-uuringute AS: 16% TNS Emor: 14%
Social Democrats:
Turu-uuringute AS: 18% TNS Emor: 20%
Others
Turu-uuringute AS: 17% TNS Emor: 21%
Summary
The Estonian election is wide open.
With no party coming close to a majority, a coalition is certain. Therefore all four parties are in with a chance of forming a government after Sunday night.
Who will be the next Prime Minister remains to be seen.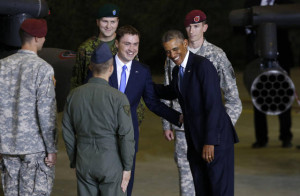 Estonian Prime Minister, Taavi Roivas with U.S. President Barack Obama, September 2014.